We believe that a partnership between our faculty leaders and project leaders is crucial for the development and innovation of clinical research. Faculty leaders provide their scientific and ethical perspectives as principal investigators to make the clinical trials scientifically accurate and successful. Project leaders are assigned to each clinical trial conducted at the CCRC. They organize a project team of professionals with an in-depth knowledge of their fields of expertise. Through this partnership between faculty leaders and project leaders, we have increased our ability to tackle any issues which may arise in the drug development process. The CCRC is also devoted to education and translational research in order to increase the quality of its research.
Faculty Leadership and Project Leadership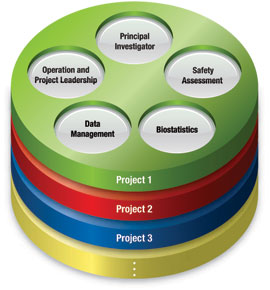 Principal Investigators
Our principal investigators are responsible for providing medical expertise by designing protocol that accurately meet the goal of each trial. We have conducted clinical trials implementing the abundant experience of doctors across 29 departments covering the treatment of various diseases including cancer, neurology, hyperlipidemia, and rare diseases.
Project Leaders
Our project leaders are experts in pharmacology and pharmaceutical affairs. When initiating a clinical trial, they gather experts from each department to develop a project team. Project leaders cooperate with principal investigators to lead trials by making decisions on the design, schedule, and procedure of trials so they can be conducted smoothly.
Clinical Research Associates
Our clinical research associates (CRAs) play a significant role in assuring the quality and speed of the clinical trial process by building trust between the CCRC and trial sites. The CRAs develop their skills at annual conferences that cover topics such as SOPs, GCP, quality control, quality assurance, and SDVs.
Data Managers
Our data managers are indispensable in assuring the quality of the trials. In order to conduct clinical trials smoothly and efficiently, we have introduced the EDC system, FOUNTAYN. We use the latest methods of data management to secure the authenticity of the data.
Clinical Research Coordinators
Our clinical research coordinators (CRCs) are crucial in conducting accurate trials that abide by regulations, and in supporting the investigators and subjects. Nurses, pharmacists, and medical laboratory specialists work as CRCs to ensure that patients are informed with the appropriate medical information when enrolling in a trial.
Biostatisticians
Our biostatisticians provide statistical leadership in the design, execution, and analysis of clinical studies and epidemiologic investigations. They ensure that our study results achieve the highest scientific integrity and meet rigorous biostatistical standards.
Safety Assessment Reviewers
At the CCRC, our medical doctors review any suspected and unexpected serious adverse reactions (SUSARs). The CCRC plays an important role in enhancing the use of the electronic data sharing system which reports and shares the SUSARs among the University Hospital Clinical Trial (UHCT) Alliance members in Japan.
Our Activities
We conduct over 100 clinical trials annually in advanced medicine, post-marketing, drug indication expansion, and translational research. The main focus of our trials is on the research of treatments for rare diseases and cancer.
Ongoing and Completed Trials:
Investigator initiated registrational trial of Metformin for atypical endometrial hyperplasia and endometrial carcinoma (Ongoing)
A Phase I study of iPS-NKT cell intra-arterial infusion therapy in patients with recurrent or advanced head and neck cancer (Ongoing)
Transdermal electrical stimulation in patients with retinitis pigmentosa (Ongoing)
Investigator-initiated clinical trial of software as medical device of cognitive behavioral therapy for insomnia (Ongoing)