Education and Training
Staff and Medical Professionals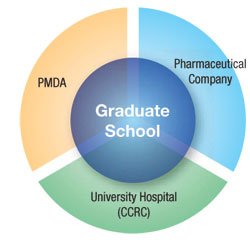 The CCRC offers classes on clinical research, drug development, and regulatory affairs to doctors, pharmacists, nurses, and all staff involved in research at Chiba University Hospital and neighboring clinical institutions. These classes cover topics such as GCP, ethics, biostatistics, and safety information.  We require our medical professionals to obtain certification through these courses before they are allowed to engage in clinical research, and they are required to renew this certification every three years.
Chiba University Graduate School of Medical and Pharmaceutical Sciences
The CCRC offers a course on medical regulatory affairs in collaboration with the MHLW and the PMDA at the Graduate School of Medical Pharmaceutical Sciences. This course aims to educate students and staff who can play a central role in the areas of regulatory science and drug development in order to accelerate the clinical trial processes in Japan. After students complete this course, they receive a PhD degree in medical regulatory affairs.
The Younger Generation
We believe that it is necessary to educate younger generations in order to develop a future for clinical trials in Japan. Through simple experiments performed in the classroom, we teach junior high school students the importance and necessity of clinical trials.

Copyright © Chiba University Hospital Clinical Research Center. All Rights Reserved.