To accelerate the clinical trial process, the CCRC is engaged in strengthening a clinical research network with domestic and global partners such as regulatory agencies, academic research organizations, local clinics and hospitals, pharmaceutical companies, and venture companies.
Regulatory Agencies
The CCRC collaborates with the PMDA in exchanging personnel to develop professional expertise in areas such as pharmaceutical affairs law, regulatory science, and new drug development.
Our staff includes doctors with experience at the PMDA, qualified experts with experience in R&D within pharmaceutical companies, and an attorney specializing in intellectual property transactions and academia-industry collaboration.
In cooperation with pharmaceutical companies, we utilize the PMDA's pharmaceutical affairs consultations on R&D strategies when aiming to put potential innovative substances to practical medical use.
International AROs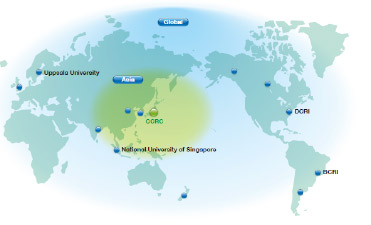 There is an urgent need to internationalize clinical research in order to achieve simultaneous, global approval of new drugs. The CCRC aims to collaborate with AROs around the world forming a global partnership. Since 2003, the CCRC has partnered with the Duke Clinical Research Institute (DCRI), focusing on information exchange and even sending one of our doctors as a research fellow. We also actively conduct informational exchange between other Asian and European university hospitals such as the Brazilian Clinical Research Institute (BCRI), Uppsala University, and the National University of Singapore.
CCTN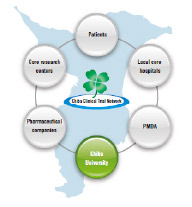 The Chiba Clinical Trial Network (CCTN) was established in 2004 through a subsidy from the PMDA. This network consists of Chiba University Hospital, local core hospitals, pharmaceutical companies, the PMDA, and core research centers. This partnership involves community practitioners in our research which allows us to both enroll eligible subjects in a timely manner, and collect enough data to contribute to regionally based science.