Guide for Outpatient Visit
Chiba University Hospital (CHU) is an "Advanced treatment hospital" that has been approved by the Ministry of Health, Labor and Welfare (MHLW). Advanced treatment hospitals provide high quality medical service efficiently to people in the area.
On principle, CHU is only intended for severe patients referred from other medical institutions (hospitals, doctor's offices, etc.), thus requires first time patients to bring a letter of referral. We ask for your understanding of this system.
In accordance with the Health and Welfare Ministry Law enacted April 1, 1996, CHU asks patients without a letter of referral to pay for First-Visit Consultation Fee (13,200yen) in addition to the regular cost of treatment.
Please note that making a special payment of 13,200 yen for the first visit based on the system for payment of medical fees including those for care outside insurance coverage does not necessarily ensure that you will be able to see a doctor at Chiba University Hospital. Thank you in advance for your understanding.
Collaboration between Local medical institution and Chiba University Hospital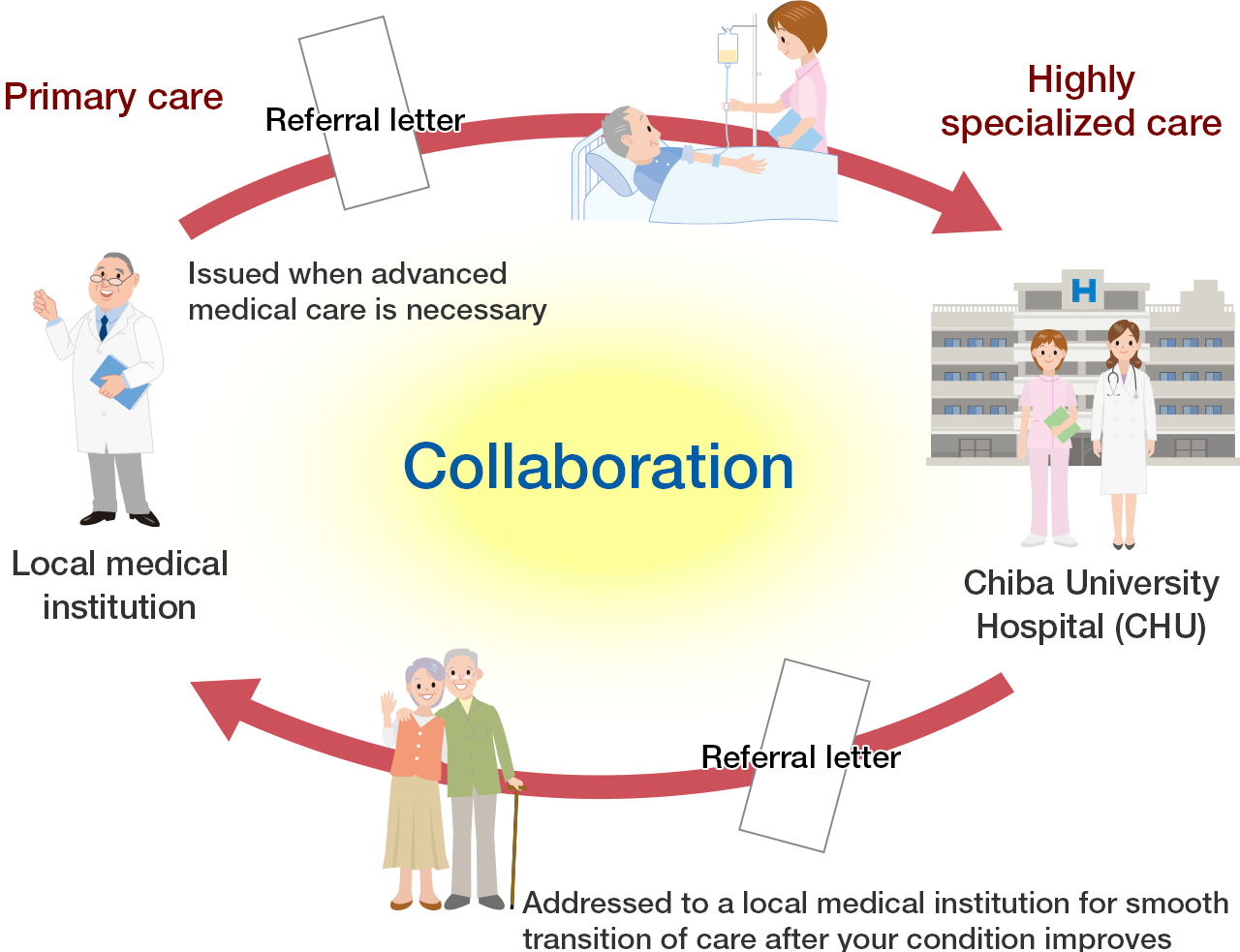 Outpatient reception hours and general procedure
First visit
8:30-10:30
Counter 1 for First Visitor and Cashier
Re-visit with
appointment
7:30-16:30
Check-in machine for visit with appointment
Re-visit patient without appointment


Note: Please contact your relevant department before visiting.

8:30-11:00
Check-in machine for visit without appointment or contact Counter 1 for First Visitor and Cashier
After 11:00
Counter 1 for First Visitor and Cashier
Holidays
Saturdays, Sundays, national holidays and New Year's holidays (December 29 to January 3)
Contact Number
Chiba University Hospital
TEL.043-222-7171 (main switchboard)
From reception to leaving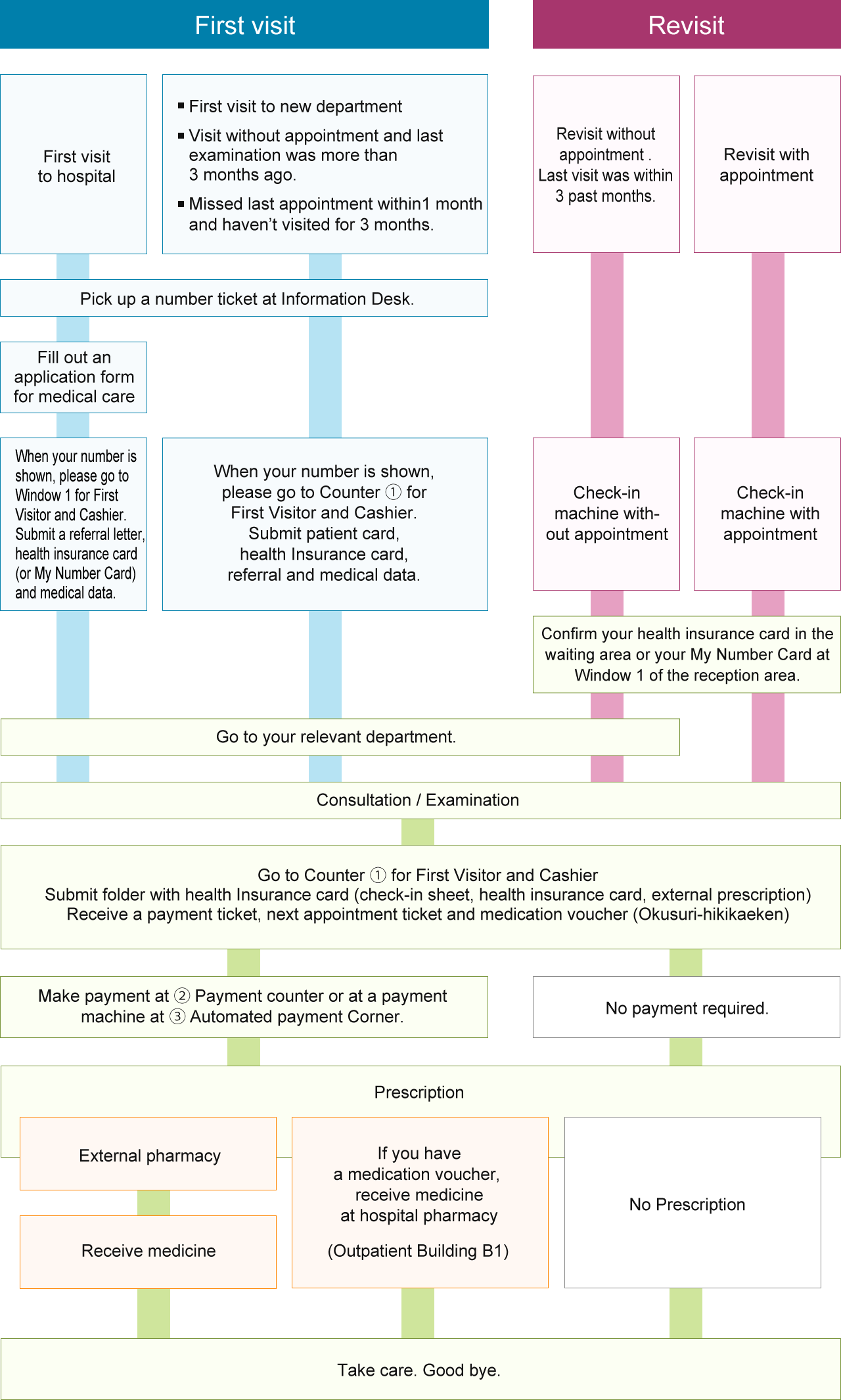 Others
Please bring your insurance card with you
Before examination, your insurance card is monthly checked at the first visit of the month. Thus, please bring the card with you. If you have beneficiary certificate for specified diseases, please also carry it with you.
Without your insurance card, you may be required to pay full medical expense at your own expense.
*

If there are any changes in registered information such as change of insurance card, please let us know.
Patient Card
Your patient card is common all across the departments. Please keep it carefully and bring it with you at any visit (your patient number will not change even years later)
*

Never place your card close to strong magnetic forces.
Due to limited parking space, we strongly recommend you use public transportation.
Reservation-only appointments for most departments

Prescribed medicine can be obtained at outside pharmacies

Wearing a mask is common in Japan

Referral letter required for advanced medical care, critically ill patients

Take a number at the reception and wait until your number is called. Please wait in line where necessary

Medical bill estimate provided through EAJ for non-Japanese patients residing overseas

No smoking, including in parking lots

Please talk quietly. Please walk on one side of the corridors

Our nurses take care of inpatients.
No attendant required

No photos

No recording

No social media