Acceptance of patients requiring emergency and critical care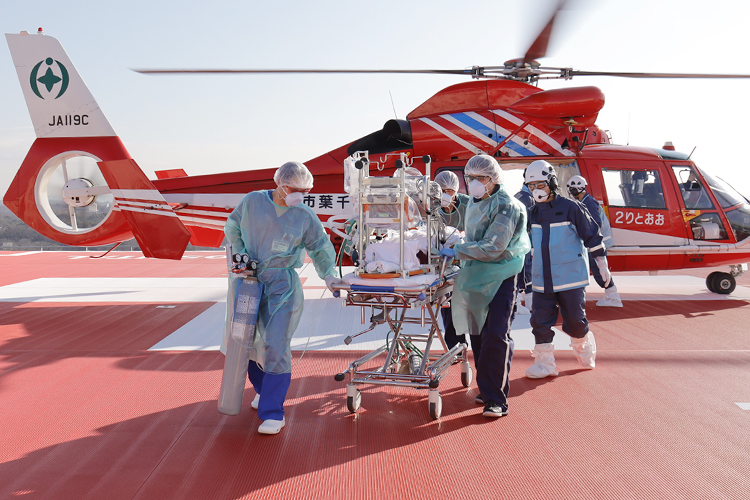 Chiba University Hospital treats patients who require tertiary emergency care with highly specialized equipment and expertise and who are transported to the hospital mainly by ambulance or helicopter emergency medical service.
The hospital will do its best to accept patients requiring life-saving procedures on request from medical institutions or paramedics as long as it has ward rooms available for them.
Meanwhile, since there are many patients waiting to be hospitalized, the hospital in principle asks patients who do not immediately require life-saving procedures, but who wish to receive emergency care, to visit the initial emergency treatment section (inside Chiba Kaihin Municipal Hospital), Chiba Holiday Clinic (inside Chiba Health Insurance Medical Center), or a hospital that can provide primary or secondary emergency care on a rotation basis. We would appreciate it very much if you understand and cooperate with our policy.
If a patient who has an appointment with the hospital wishes to see a doctor on an emergency basis, he or she may do so at the clinical department where he or she has an appointment.
About tertiary emergency care
Japan's emergency care system is divided into three parts depending on the severity of a patient's condition: primary (initial), secondary and tertiary emergency care. The emergency care system of each prefecture is devised in accordance with the prefecture's medical care plan.
Primary (initial) emergency care
For patients with minor symptoms who can be treated as an outpatient without needing to be hospitalized.
Secondary emergency care
For patients with serious symptoms who require hospitalization and/or an operation.
Tertiary emergency care
For patients who are critically ill or injured for whom secondary emergency care is not sufficient for treatment.