Nursing
Medical Services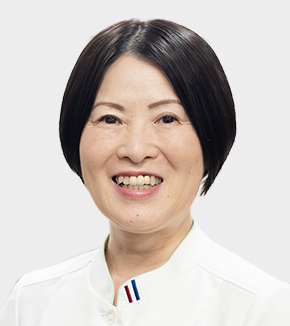 The Nursing Department proudly upholds its philosophy of "Making a brighter future by helping patients live in line with their own values." We cherish the nursing spirit of staying alongside each patient receiving advanced or acute medical care to help them return to good health and their normal life.
We are enhancing our nursing expertise so we can detect signs of a patient's strength to live and guide them to recovery; combine the fortes of patient-centric support teams, organizations and regional entities; and develop excellent professional nurses for the future.
Moreover, we will fulfill our responsibilities as a university hospital by educating and fostering human resources, visualizing the value of nursing and sharing information about this with society - all for the health of residents.
Nursing system: The standard ratio of one certified nurse per seven patients; one nursing staffer per 25 patients in the acute phase; one nursing staffer per 12 patients at nighttime; and one nursing staffer per 100 patients in acute phase at nighttime. (More than half of these staffers are nursing assistants.)
Nursing unit: General wards (19), mental health ward, NICC, GCU, ICU, MFICU, HCU, SCU, Emergency Critical Care Center
Nursing style: Chiba University Hospital-style responsive nursing
Shifts: Two (three in some instances)
Nursing respectful of each patient's values
Our top priority is supporting advanced medical treatment by providing science-based nursing care while keeping patients safe and respecting their dignity. We also enable our patients to use their inner strength and physical abilities so they may live satisfying lives. We deliver seamless nursing care from the acute phase to community and at-home medical care with teams of nurses who are trained to deal with any given situation in a timely and flexible way, reinforced by strong teamwork. Nurses who have completed the hospital's training course for conducting specified medical procedures are also working in the Emergency and Critical Care Center, as well as in ICUs.
Fostering next-generation medical professionals
As a hospital delivering highly advanced medical care, we are devoted to fostering nursing professionals who excel in providing care and responding to each patient's needs. The Health Professional Development Center is staffed with five nursing education specialists. They provide on-the-job training, seminars and e-learning, together with clinical departments, with the aim of facilitating our nurses' professional growth. We are fostering nursing administrators who play crucial roles in assuring the quality of nursing. Amid rapid advances in acute-phase medical care technologies, we provide learning opportunities such as courses training specialized nurses and attending graduate school. We also have support systems, including an educational course for certified nurse specialists, to help nurses obtain qualifications. Furthermore, we contribute to the community by developing medical professionals who will play vital roles in the future. To that end, we provide on-site training for nursing students, train nurses in specialized fields, accept non-nursing students for practical training, and dispatch lecturers to nurse training facilities and other hospitals.
Nursing fit for the changing times
As a core hospital that provides community medical care, we have established nursing systems that can swiftly and flexibly respond to natural disasters and newly emerging infectious diseases, while still providing medical care to our regular patients. In addition, we will work with local governments and medical institutions to help local residents improve their health.
Creating a workplace with career opportunities
We are committed to creating a healthy and safe workplace in which nurses aspire to continue and advance their career. To support each nursing professional on this path, we will promote work-style reform and provide career support tailored to each individual's needs with the aim of creating a workplace where they feel their job is rewarding and maximizing their potential.
Contact
TEL: +81-43-222-7171